COTTAGE DETAILS
(You can click on the Buttons to see instant Popups on your screen.)
CALENDARS, RATES, FACILITIES, FAQ
COTTAGE FACILITIES
Property Summary                                                                    
---
Sleeps up to: 8   (3 bedrooms and two double couch beds)
1 Master Bedroom ground floor (King Bed)
2nd Bedroom ground floor (Single Bed)
3rd  Bedroom first floor (Single Bed)
2 comfy couch beds each one with a double bed in the
large open living room space.
Rates: £350 to £1,150 per week
Nearest beach: Parrog, Newport Beach: .8 km
Changeover day:     Flexible
Access:                    Car advised
Nearest amenities: 2 km
Will consider: Long term lets (over 1 month)
Short-breaks (4 days or fewer)Hen or stag parties
Corporate bookings
Family friendly:  Suitable for children of all ages

Suitable for people with restricted mobility
Notes: Pets welcome
No smoking indoors at this property (allowed outside)
Self-catering
Facilities
---
Luxuries: Log fire, Fast Broadband Internet access with WiFi throughout, DVD player, striking Sea views
General: Central heating, TV, Video player, CD player, Telephone, Satellite TV, Wi-fi available (thoughout house)
Standard: Kettle, Toaster, Iron, Hair dryer
Utilities: Clothes dryer, Dishwasher, Cooker, Microwave, Fridge, Freezer, Washing machine
Rooms: 3 Bedrooms, 1 family bathroom
Furniture: Sofas 2, Single beds (2) each in two separate bedrooms, King beds (1) in Master bedroom, Cots (1) (Master bedroom), Dining seating for 8, Lounge seating for 10, Sleeps maximum of 8
Other: Linen and towels provided.
Highchair available.
Outdoors: Balcony / Terrace, Private garden, BBQ
Access: Parking space
Further details indoors:
Very child friendly, with stair gate, cot, high chair and gate on deck, Also it is very dog friendly with the deck, huge garden and great wallks right from the cottage. This architect ecologically designed cottage has a great open plan with kitchen, dining room, living room, and sunny deck all leading through to one another, allowing sunlight and great panoramic views throughout. The special, cosy, and rustic style will surely warm your heart, with uneven plaster and stone walls, Maple flooring, carved slate, stone archways, and an inglenook in the master bedroom.
Further details outdoors:
You have 1/3 Acre of private garden all to yourselves with great mountain views, big, old trees, and lots of magical corners to discover. When Sunny Retreat Cottage is combined with The Old Rectory, the gardens can be joined to allow a whole Acre of garden all to yourselves, with an orchard and amazing dining areas with incredible views of the bay.
FAQ
Cottage F.A.Q.
Frequently Answered Questions regarding the Cottage…
General
1.  How far are you from Central London?
About a five hour train trip…
2.  How far are you from the town of Newport?
Very close… a three minute car ride and 30 minute walk (approximately 1 mile away)…
3.  Do you have direct access to the famous Coastal Paths?
Yes!  We have public access path the .8 of a mile distance over farm lands to the paths and the sea.
4.  How much privacy is there?
We have only farm lands surrounding the Rectory and Cottage…
5.  Do you have nearby Managers who can answer questions or provide help if need be?
Yes.  Our couple Poppy and Dan are just 8 miles away.
6.  Do you have high speed Internet and WiFi?
Yes, we have very fast broad band internet of the highest order due to our new Fiber Optic connection, with WiFi coverage throughout….
7.  Are you Pet friendly?
Yes, but please realize that our 1 acre garden is only partially fenced, with farm land all around.  This means that you must watch your pets when they are out or keep them on a lead. 
8.  How much privacy is there?
The entire property is surrounded by beautiful farm land, so you have a high degree of privacy.
Facilities:
1.  We have a Barbeque that use propane (we supply it).
Activities:
1.  How close to Newport Beach are you?
Less than a mile, you can walk there too in about ten minutes.
2.  How do we get to the famous coastal paths?
There are direct access walkways straight to the paths.  There are 200 miles of beautiful Costal Paths going North and South.
3.  We hear there is bird watching in the Newport area.  How do we best do that?
Yes we have World Class birdwatching in Newport.  Just go to the Information Center in town and they will show you all the viewing areas.
4.  Where can we hire bikes in Newport?
Here is the link to hire bikes:  http://carninglibikehire.com/
5.  What else is nearby for other fun activities?
a.  The leisure centre and swimming pool is really nice, cheap and free easy parking:    Just 10 mins drive     http://www.gofishguard.co.uk/project/fishguard-leisure-centre/
b.  The Iron Age Fort  10 mins away     http://www.pembrokeshirecoast.org.uk/default.asp?PID=261
c.  The Shire horse farm 15 mins away     http://www.dyfed-shires.co.uk/
d.  The National Garden of Wales, 1 hour away… so much to see for a whole day.  Huge greenhouses. Lots for children to do.     https://botanicgarden.wales/
e.  The Scolton Manor  30 mins away…  lots of events for kids      http://www.visitpembrokeshire.com/attractions-events/scolton-manor-museum-and-country-park/
f.   There is a very nice, spacious, theme park about 1 hour away     http://www.oakwoodthemepark.co.uk/
Children:
1.  Is it a good place for children of different ages?
Yes both The Old Rectory and retreat Cottage are very child friendly.
2.  Is it good for Babies and Toddlers?
Yes, we have 2 good strong cots, a high chair and a booster chair.
3.  Are there are stair gates on all stairs for safety?
Yes…
4. Do you also have some plastic plates and cups for the kiddies?
Yes…
5. Are there are plastic protectors that go in some electrical sockets for protection?
Yes…
6. Are there are children's books for stories and amusement of any age?
Yes…
7.  Are there nooks and crannies in the houses where kids can play?
There are lots of places all over the houses to curl up in, or hide.
There is a whole acre of garden to play in. 2/3 rds of an acre for The Old Rectory and 1/3rd of an acre for the Sunny Retreat Cottage.
There are big trees to climb, a whole little woodland area to play in.
There are large sunny lawns for frisbee or football or other games.
There is the the huge slate table which has been used as a table tennis table.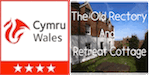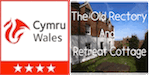 [contact-form-7 id="649″ title="Contact Form Page"]