WEDDINGS AT THE OLD RECTORY
     If you haven't decided on a venue for your Wedding, we invite you to consider the Old Rectory in Newport, Pembs. We have one of the very few large private houses for weddings in Pembrokeshire that is also registered for civil ceremonies. The Old Rectory is a beautifully restored 300 year old Listed building. It has charm, history, and all modern comforts. Although it has 360 degree views of Newport Bay and Carn Ingli Mountain, it is in a very private location and not seen from the road. People do not drop in without an appointment. That means that when you book it that you have total privacy unlike hotels. Please come for a viewing that we can arrange between bookings. Even if you are unsure of your plans we are very happy to show people around without any pressure. It is common that brides may visit several times to show their families. We welcome visitors, so please contact us.
    For your Wedding, the Old Rectory and Cottage are dedicated to you. You really can have YOUR WEDDING YOUR WAY…. in every detail. The closest dwelling is half a mile over fields that surround the acre of beautiful garden. We have all the local resources at your disposal that you may need, such as excellent local Caterers, Florists, Stylists, custom Marquee, Celebrant, wedding planner, your own bar, and anything else Wedding related. You have perfect opportunity in many locations here for photo shoots, as well as Newport Beach, Newport dunes and Carn Ingli Mountain.  We have been providing the Old Rectory and Retreat Cottage as a Wedding destination for over 25 years now.  With our new large function room in the Garden can handle up to 50 people and combined with a Marque, up to 120.  We hope you can come for a visit.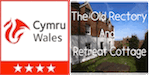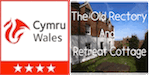 [contact-form-7 id="649″ title="Contact Form Page"]